Frankie & Jules Curated Collection
Tank: Frankie & Jules c/o | Skirt: Frankie & Jules c/o | Sunglasses: Madewell | Bag: Standard similar here and here | Earrings: CoCo Brookeside | Shoes: Nordstrom Rack | Necklace: Sierra Winter Jewelry
You guys, can I just pinch myself real quick!? One of my favorite boutiques, in Kansas City, Frankie and Jules, asked me to curate a collection at their store!! It was so special and sweet of them to ask me out to create a curated collection of clothes at their store! It's definitely something I've always dreamed of doing! Frankie and Jules has a really cute trendy pieces that are both appropriate, fun, and well priced! They also have great basics (layering tanks), shoes, and accessories too! I just always have loved their clothes and am so excited to share my little curated collection with y'all today!
The black tank top and white polka dot skirt I'm wearing above are from my picks! Aren't they just so cute! I have worn them a ton since I picked out this collection and I know you all will too! So here's a list and a slide show of all the pieces I hand picked for y'all!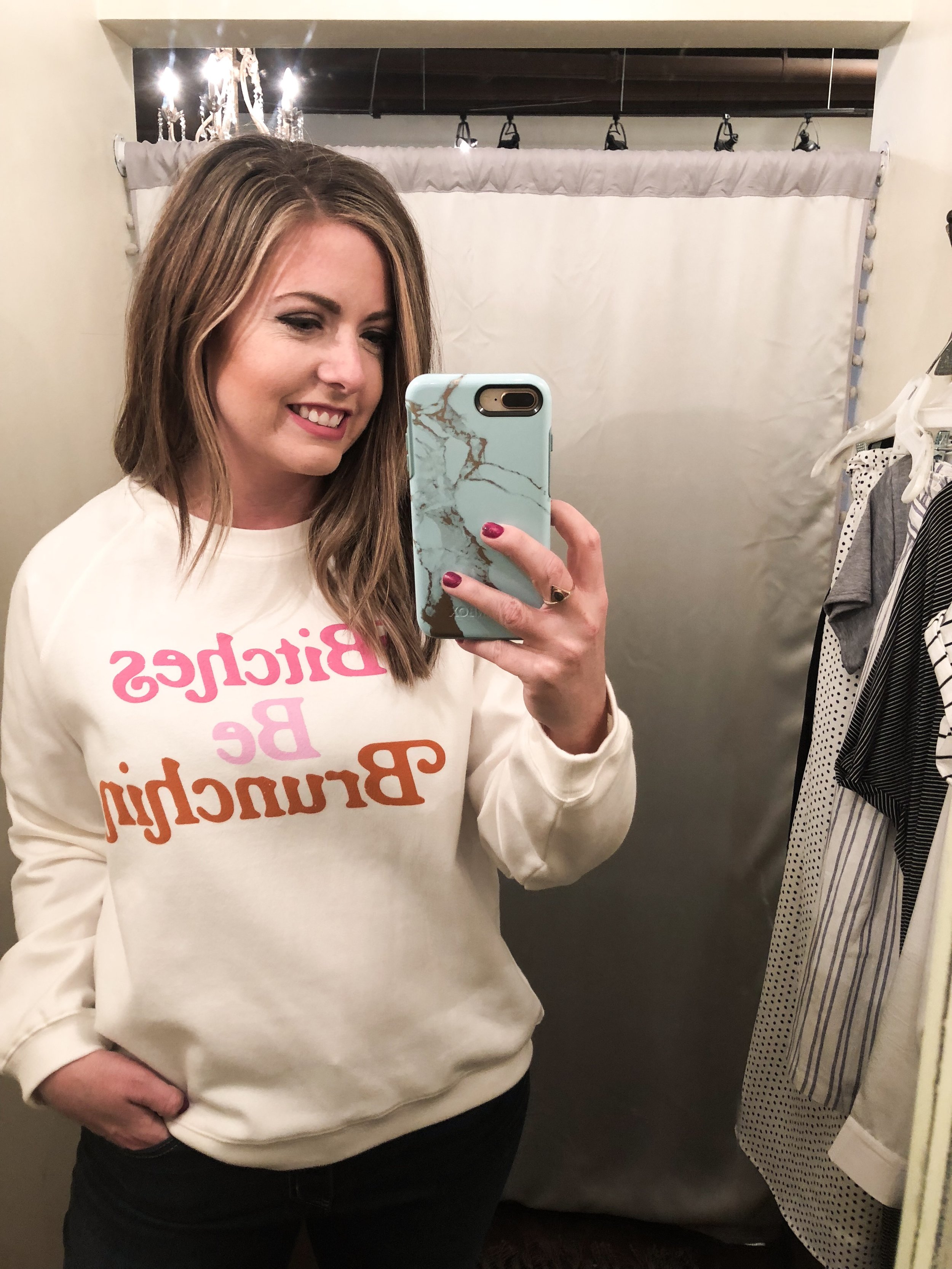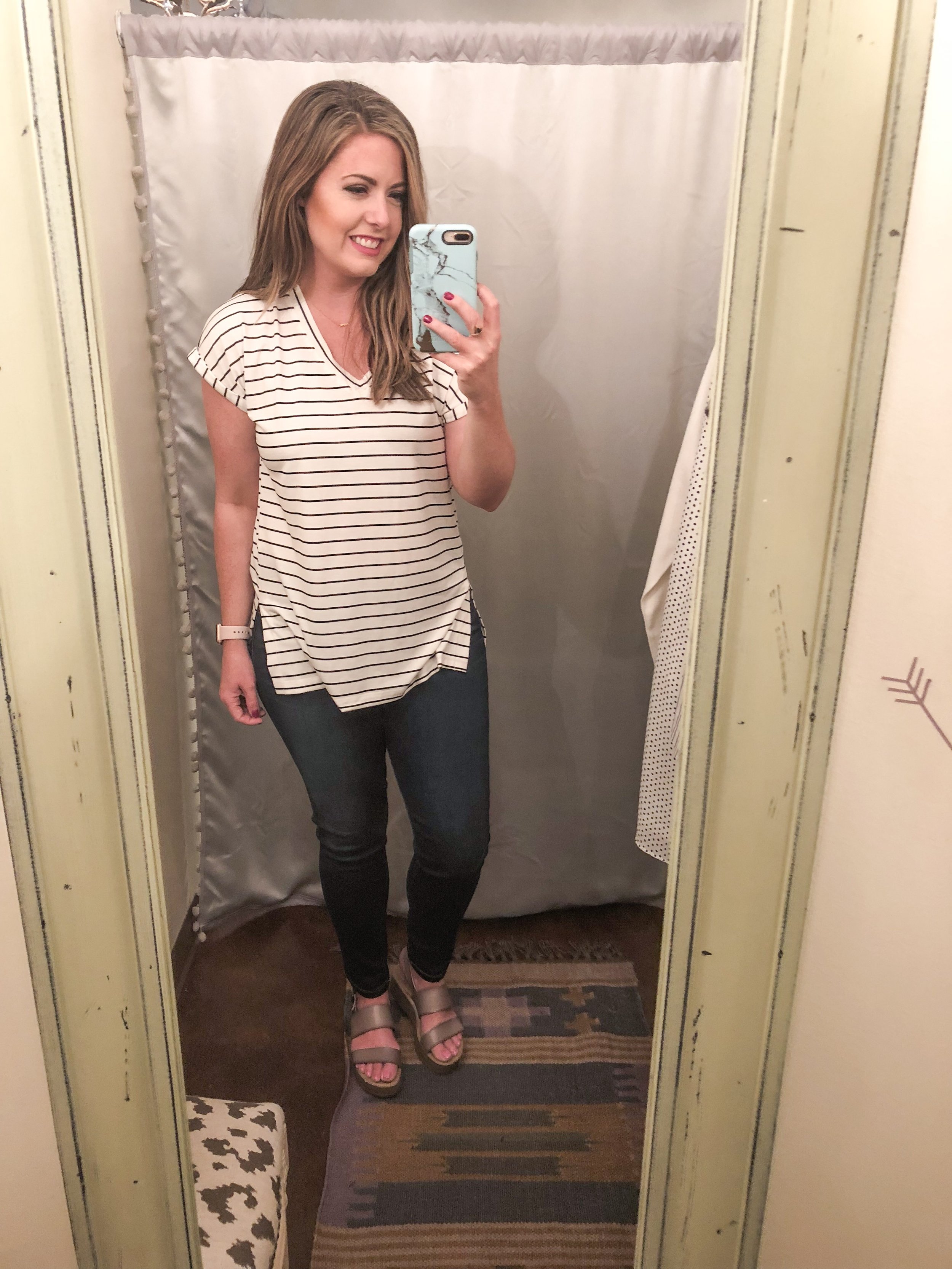 1. Classic White Button Down Blouse ($45) - A great piece to wear for work and I wore one of Frankie & Jules layering tanks ($15) underneath, as it is a bit shear. And I wore it with a pair of Frankie and Jules dark wash jeans ($70) , they are super comfy and soft!
2. Stripe V-Neck Tunic ($42) - A perfect tee to wear everyday with leggings or jeans! Or tie the front in a little knot with high waisted jeans, would be so adorable too!
3. Bs Be Brunchin' Sweatshirt ($60) - This sweatshirt made me laugh out loud the second I saw it! The colors are so sweet and sassy! And it's a sweatshirt, so hi, so comfy and cute!
4. Stripe Jumpsuit ($65) - This thing is a no brainer! It's got great support in the bust and the straps are adjustable too! So it will work for everyone! I love this for a Saturday morning or even just a GNO with my friends. It's so cute!!!
5. Stripe Maxi Dress ($38) - Talk about comfort! This thing is just so soft, and just too cute for summer! I love the idea of wearing this with a denim jacket and sandals for a day around town! It's just so easy breezy, you could wear it all day!
6. Black Twist Tank Tank Top ($32) - It's the tank I am wearing above! It's again, so soft, has an adorable twist detail at the hip, and can be worn tucked into a skirt too! I love how it looks with the Frankie and Jules white jeans ($60) too!
7. White & Black Polka Dot Midi Skirt ($48) - Love the cinched waist of this skirt and how long it is. It makes it feel just a bit dressy, but easy to do everyday life in. I can wear this skirt with a tee, denim jacket, and sandals, or with pumps for a date night! It's super versatile and I honestly wear it all the time! It's a great piece to own!
8. Gray Crop Top ($35) - That's right, I picked a crop top y'all! It's so great to wear with high waisted jeans, or even just tucked into a skirt, like I did! It's such a classic style that looks so good with so many things!
9. Paper bag Waist Stripe Midi Skirt ($50) - LOVE this skirt too!! The paper bag waist is very on trend and is just a cute and casual style! I love the stripes and know it's such great piece to wear all the time!
Now, you guys, the gals from Frankie and Jules are offering you all 20% off your purchase until July 14th! How sweet is that! So be sure to call, pop-in, and snag the pieces you've fallin' for here! Be sure to let the gals know I sent you! And enjoy these pieces like I have!
xo,